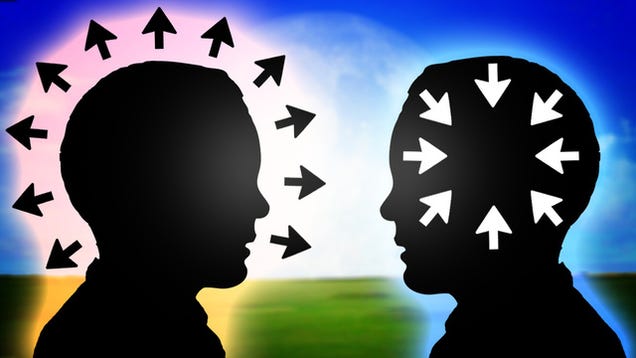 Society tries to categorise people into two personality types: extroverts and introverts. Extroverts, apparently, are loud, sociable creatures. Whereas, introverts are the shy, meek and mild ones. But then you have hobbies and interests, in addition to personality, that also determine which category. Do you like being quiet? Reading a good book? Enjoy chatting with a few select like-minded friends? Yes? You are considered to be an introvert. If sky-diving, quad-biking and skiing are more your bag, then you're in the world of extroverts.
I've always been fascinated by these concepts of "introvert" and "extrovert" and was reminded of them by my latest Psychologies magazine. The article in question named 'I'm dreaming of a quiet Xmas' was telling extroverts to be aware of their introverted friends and relatives, who may be affected by too much socialising and extroverted focused events. Too much stimulation can overwhelm a quiet, introvert. I do understand this and it makes sense. But as someone with some introverted tendencies myself, I do not want extroverts to feel they have to behave differently around me. But being aware is always a useful thing, I guess. I found a previous quiz more helpful as it delved a little deeper. It looked at four different areas we fall into to identify our personality type. This is more realistic. But the focus on introverts struggling with the festive period bugged me a little. Firstly, Christmas isn't all about partying. But just as much about having quite time by the Christmas tree with a great book or Christmas film. Winter nights of open fires, cosy cushions and carols – surely that is an introvert's dream? I know it is for me. There is plenty going on at Christmas to satisfy all personality types.
Secondly, where as I obtain many introvert characteristics, I also have many extrovert features to my personality. The categories are too black and white – it needs to be more of a scale. I like to read silently; sit and reflect; take a relaxing bath. These things all stimulate me and make me happy. However, loud, alcohol-fuelled gatherings in busy, lively bars and crazy parties also stimulate me and make me happy. I'll talk to anyone: large groups, strangers, acquaintances – plus act the fool in front of any of these! I am confident, sociable and loud (bordering on silly and annoying when I've had a few…) which I am aware on not usual introvert qualities, but more extrovert. Some could argue that it is the best of both worlds:  I go out and party and then have quiet time at home. Both can make me equally content.
I do have typical introvert moments when I feel over-stimulated. Sometimes, music can be on and it suddenly feels too loud and unbearable. It has to go off straight away for me to feel calm again. I also hate going out on Christmas Eve (which my very obviously "extrovert" husband cannot understand. I always have hated going out on Christmas Eve, so it isn't an age thing. I don't like being pushed and shoved in a busy pub and then having the punishment of a Christmas Day hangover. (Midnight Mass is also a ruled-out option… see https://samanthagray9.wordpress.com/2013/12/28/midnight-madness/)  I'm not boring – I love going out – just not on Christmas Eve. I like a quiet, chilled night sitting under my beautifully decorated tree and intricately wrapped presents, whilst  watching a Christmas film  and getting into the spirit (yes a little Baileys or vodka too!) in my own way. I look forward to crazy, excitement of Christmas Day, whilst relishing the contrast and magic of Christmas Eve.
So, I like to think of myself as an Introverted Extrovert. But after doing some more research on the subject. This included yet another personality quiz and its verdict was to place me exactly half way between an extrovert and an introvert and the new, coined term for this is Ambivert.   Makes sense, but I think I prefer my term of Introverted Extrovert , or I can switch to Extroverted Introvert, depending how far down the scale I feel I am that day!
You may start to think about whether you are an extrovert or an introvert by this point. What makes you happy; what makes you tick. You'll find you're a mixture in some way, I'm sure. It is definitely a scale, I think, like I said above. And we're all on it at different points. Even though, I stated above that my husband is clearly an extrovert (He loves rowing, snowboarding, quad-biking, paintballing – whereas I love reading, writing, swimming and shopping.) But, he also enjoys quiet activities – normally computer related: design, websites, games etc. Yet, we both adore going out with friends and family; going away for the weekend (yet activities we do when we are there are usually up for debate!); fancy meals out with alcohol; entertaining large groups of friends of family. Also, my hubby isn't as socially confident as I am – especially with strangers. He can't do small-talk or chat easily with people unless he knows them well. Maybe a gender related reason here too, I'll agree, but we both carry introvert and extrovert qualities.
No matter where on this scale you come, make sure you do some of what makes you happy this Christmas. Whether that involves busy, festive crowds or some alone time, do not feel guilty about doing what you need to do to be happy. We all deserve it.
Merry Christmas, everyone!